I probably should have put both firsts together. Yesterday's orientation was the official first day of school but today is the REAL first day of school for Zia. She woke up all excited to get ready and eat breakfast. She packed her backpack full of play food and random toys and I unpacked it for her. I keep reminding her that the rules say "no toys from home" and she will have everything she needs there. We talked about the day and how it was going to go. She talked about coloring pictures for her teachers and I. She even jumped up and down at the thought of playing on the little playground.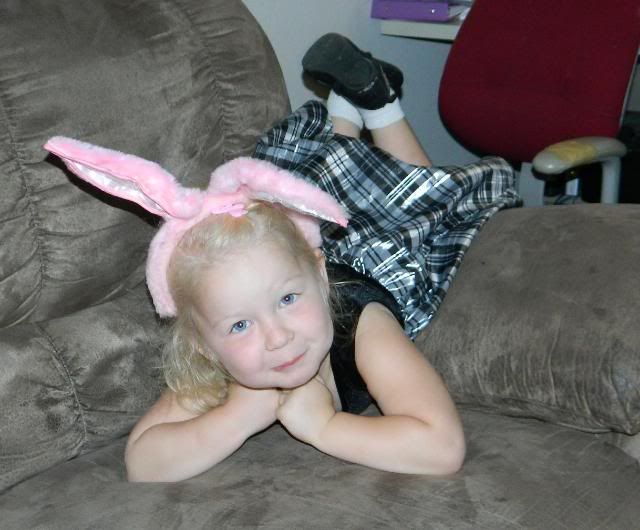 She got a brand new outfit for the first day of school that she picked out herself and then today decided she was going to wear her Christmas dress. Yup, eyes rolling here but if that's what she wanted to wear, I'm down with that. We were both a lot nervous about the first day on her own and I certainly wasn't going to fight her over what she was going to wear.
She had the breakfast of Head Start Champions. Chicken fingers and peaches with a huge cup of milk!! Not what she wanted but what she settled on after finding out we live with Old Mother Hubbard.
She prepared for the day by brushing her hair and practice the potty all by herself. She can do it alone, but she's usually naked at home. So going alone, fully clothed… that can be a problem for a three year old especially when wearing a foofy dress! She was reminded that after potty you flush the toilet and wash your hands so we don't spread germs, after lunch you brush your teeth and then the play time starts! She was really upset when I told her she didn't need to bring her toothbrush with her. They have them for all the kids with their names and all ready to go. She was super excited!!

She seemed a little weirded out that we had to travel to get to the bus but once buckled into her carseat she was ready to go!
The bus was already there and we left 10 minutes early!!! A huge change from Sonyea's first day when it was almost 20 minutes late!!
She got out of her seat, put on her backpack and slowly made the long walk to the bus door.
She immediately grabbed me for a huge hug and as I suspected she didn't want to let go. After a few hugs, I kept trying to push her on the bus without making her upset, she finally climbed up the steps. We turned her around for a photo and somehow that was her cue to climb back down for another hug.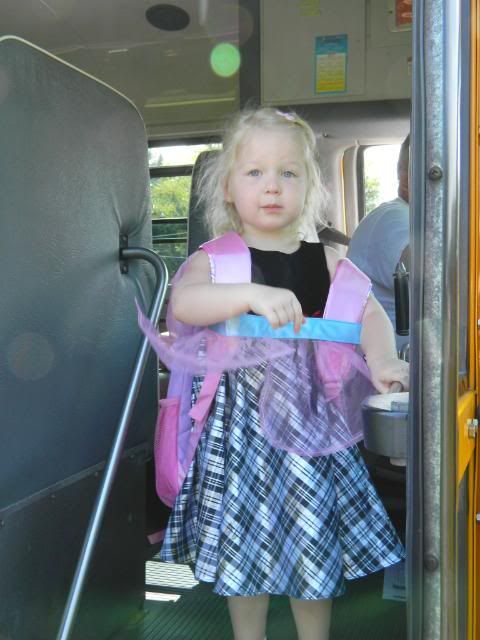 I really wanted to grab her up and run home but I gave a quick hug and pushed her back up the bus. She sat right in the front, next to the window and kept trying to not cry/not smile face. Oh that face. You'd have a photo of it but the windows were so tinted I couldn't get a picture of it.
As soon as my sweet baby girl was buckled, they closed the door and off they went. I made it back to the van before I started bawling. Yup, I did it. Not because I'm scared she'll be sad or hurt but scared of the unknown. Scared of how they will treat her. I KNOW she will be treated with the utmost respect and she'll learn great things this year but being out of my control is hard to imagine on a daily basis.
I was so looking forward to this day when I'd put them both on the bus, wave and say "see you later" but now that it's here, yup… I miss my babies. I don't miss the fighting though. Looking forward to this afternoon when I can hug them again and hear all about their days!
As I pulled back into my driveway, the bus came along the highway. I slammed on the brake and jumped out and waved like a mad momma as my baby girl drove by. She seemed to be smiling and waved back. A huge accomplishment for my baby girl as she steps out alone for the first time! We are so proud of her!!