You can tell that Spring is here. We've been outside almost all day, every day. And the bugs are out. Sonyea has a NASTY bite on her ankle already! It's going to be a long season if she's going to be so affected by bug bites. Jimmy is the same way. Any tips, tricks to get the itching to stop? Tonight, she was in tears. I applied Calamine lotion and a tight fitting band aid. She's still sleeping, so it must have worked. Share your secrets please!
Don't worry, I'm 100% positive, this did not bite her. Zia found this on the back door. I have no idea what this is but it mimics a wolf spider. It surely is NOT a spider. You can tell by the placement of all those legs it's not. Maybe I need an insect identification book.
We broke out the bubbles for the first time in a long time. The girls got the handle on those pretty quick again. Zia has to learn everything over again from last summer.
You can still see the left over from the marker. Thanks PopPop!! The markers were in your xmas present. 😉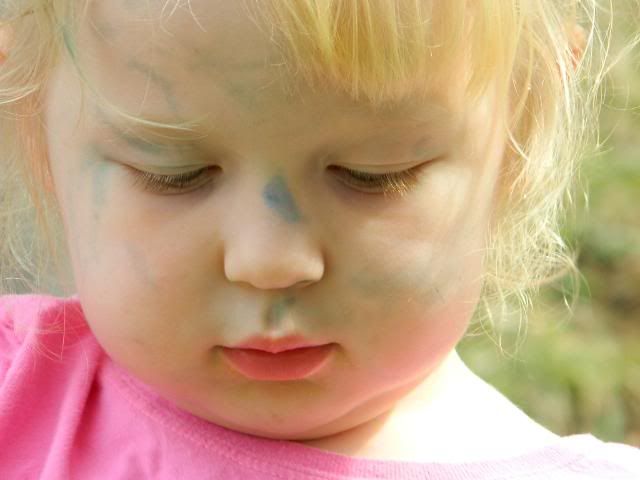 Grammie has asked on a few occasions if the girls enjoy the Highlights magazine they get. Well, here's your proof.
As soon as Sonyea got it out of the mailbox, she immediately locked herself in the car and would not share. Zia had to observe from the outside.
Sonyea has really gotten into gymnastics since she's been bumped up. She's constantly practicing and it really shows. Yesterday, she really worked on those cartwheels and oh boy, has she learned fast. She's even working both sides at the same time. She did at least 50 in a short amount of time. She'll be a pro by next year!! If anyone wants to join us for class and watch, let me know. I'll get you the details. I know she would love to show off for everyone who will watch!
Oh yea, and she even got her bridge down pat. She was up off the ground, elbows straight and hair dangling. She wasn't supporting herself with her head!! YAY!!
We ate dinner really early (for once) and headed out to Otsiningo Park. The after school crowd was there so we forced Sonyea to walk with us. I set the pace! It was a pretty brisk walk along the river. We walked about a mile. Sonyea complained a lot but in the long run, she did great. I told her if she wants to be awesome at gymnastics she has to work her whole body. She did get to ride in the stroller for a little bit. We rewarded an excellent walk with playing on the playground!!
Working on her upper arm strength as much as we can!!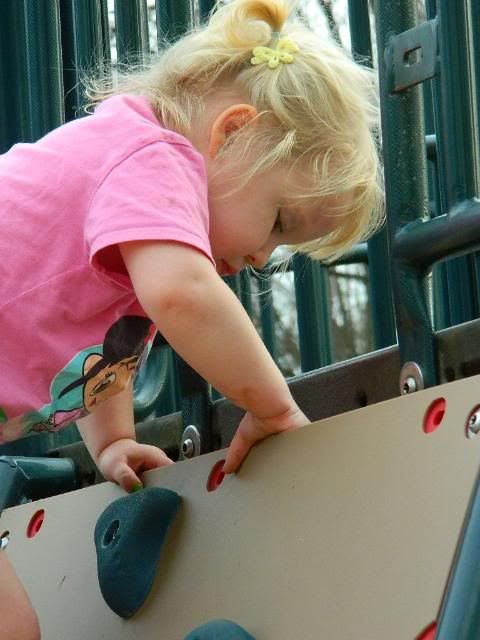 Excellent rock climber!
I love this next picture. It's a bit out of focus but I love how the girls are looking at each other. LOVE!!!!
After we did our errands we rewarded a great night with HUMDINGER!!!!!!!!!!! It's been a great winter. But Spring is the best when Humdinger is open!!
The girls didn't want to leave Otsiningo but I bribed them with a return visit to the park after our errands. Not wanting to head back to Otsiningo we hit up a little tiny community park off Front Street. It's in pretty bad shape really but the girls didn't care. They enjoyed the swings and climbing and spinning. Sonyea also really enjoyed working on the monkey bars. I love that she's so enthusiastic about getting stronger! I love her will!!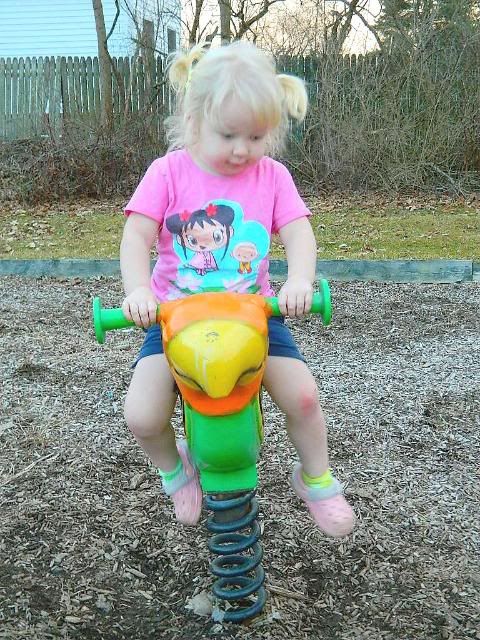 That face!! How I love that face. She has so many faces, I can't keep them straight and get all warm and fuzzy when she tosses them out.